New

2024

PITTS

LB35-33CS SPRING RAMPS
---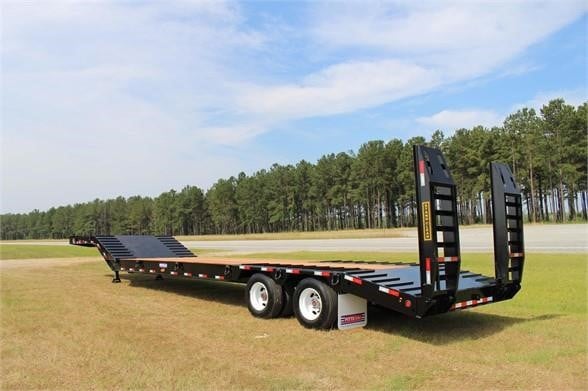 Price transparency
Quality Equipment
Professional Service
Knowledgeable team
Looking to sell your equipment or trade in? Give our experienced team a call today to learn more about getting top dollar for your used equipment.
Nationwide Haul - Atlanta
$38,868
Description
2024 Pitts LB35-33 • Fixed Neck Lowboy **Hydraulic Ramps Option Available** **FET not Included** Locations In FL & GA SPECS: CAPACITY • 35 tons in 16a length (GAWR and tire ratings determine legal payloads) ESTIMATED TARE WEIGHT (STANDARD PACKAGE) • 13,500 lbs. A+- 3% LOAD BASE • 16a rigid point load centered in deck DIMENSIONS • Overall: 8a 6a width x 45a length • Clear deck length: 27a (flat deck design) • Deck height under full load: 33a GOOSENECK DESIGN • 48a nominal loaded 5th wheel height • Fixed neck to deck connection • Full width wood filled top deck • Full width 21Adeg steel check plate with loading slope and traction bars • 84a swing radius • Toolbox in front of neck DECK DESIGN • Main longitudinal members 16a fabricated with positive camber • (4) I-beam design • Level deck design • 8a I-beam cross members • 1 1/2a nominal apitong decking BOGIE DESIGN • Wheel wells covered with formed steel check plate and traction bars • 4a dovetail covered with steel check plate and traction bars • 6a x 2a heavy duty spring assisted, self-cleaning, rear loading ramps AXLES • (2) Heavy-duty axles with 49a spread • 25,000 lbs. nominal capacity per axle (GAWR determined by suspension type, brakes, tires and other components) • Tapered spindle axles BRAKES • Heavy-duty brake drums, outboard mount • Automatic slack adjusters • 12 1/4a x 7 1/2a with Type 24/24 parking brakes on (2) axles HUBS • Hub-piloted • Outboard cast drums WHEELS/TIRES • (8) Steel disc wheels 6.75 x 17.5 with 235/75R 17.5 H-ply (Aluminum available) SUSPENSION • Hutch 9700 3-point heavy duty 4 leaf steel spring suspension ELECTRICAL SYSTEM • Fully sealed wiring harness with LED lights • Marker lights and mid-turn signals • (3) Round stop, tail and turn lights per side on rear PROTECTIVE COATING • High quality 2-part PPG black acrylic urethane • High quality 2-part primer • White blasted and cleaned prior to painting LASH RINGS • (8) Pair (16 total), bent D-ring THE NATIONWIDE HAUL EDGE - We finance All Equipment! Even if you didn't buy from us! - Free Trucking Insurance Quote & Policy review for all Customers - DOT for Life - All equipment we sell gets a free DOT Inspection for lifetime - Extended Warranty options on All Equipment - GAP Insurance & Roadside Assistance is Available - We accept all Trade proposals and pay top dollar! - Free TCS Fuel Card (Save an average of 42 cents Per Gallon)
Nationwide Haul takes pride in quality equipment sold at most competitive pricing in the industry. We offer a variety of new and used semi-trucks & semi-trailers to meet the needs of our clients. In addition to quality equipment Nationwide Haul provides industry-leading equipment financing, leasing and insurance options for its clients.
Specifications
| | |
| --- | --- |
| Price | $38,868 |
| Stock # | TPILB3533CSATL |
| VIN | VIN not Provided |
| Transmission | |
| Axles | Tandem |
| Axle Conf | Fixed |
| Suspension | Spring |
| Wheels | All Steel Front |
| Tires | 235/75R 17.5 H-ply |
| Dimensions | 3"H, 102"W, 540.0'L |
| GVW | 85,000 Lbs |
| Air Cond | No |
Price transparency
Quality Equipment
Professional Service
Knowledgeable team
Looking to sell your equipment or trade in? Give our experienced team a call today to learn more about getting top dollar for your used equipment.